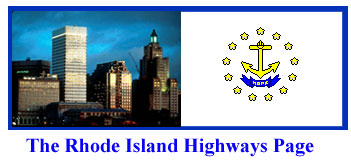 This is a page completely devoted to Highways in the biggest little state in the union. It may be a small state but it has 3 Interstates. A Limited Access U.S. Highway, and 6 State Highway Limited Access Highways. This is finally a completely listing of all the highways in Rhode Island.
Announcement: I am currently out of the state for college and will be until December for a couple weeks. Being out of the state its hard for me to update the site so if anyone out there who lives in New England has updates for the site, please e-mail me at mkendric@hotmail.com
These are all the Links I have so far but there are more to come.
Links:
This page was produced Mkendricks
With lots of help from Chris O'Leary and Michael Adams.